About Us/ Amdano Ni

Hi, we are Platform 1, Jake, Josh and Martha. We are a three piece band originally from Wales but are currently based in Bristol! Josh and Martha have been playing together for the past four years primarily gigging in Wales and the Bristol area. Over the last year we have really enjoyed playing at festivals such as Brecon Fringe, Radnor Fringe Festival and HUB Festival in Cardiff, all of which have been great experiences for us. It is difficult to define our exact genre of music but modern melodic folk with some electric guitar and bass kind of sums it up - we find it's usually best just to take a listen!

​We all love to perform live and always enjoy ourselves. We like smaller, more intimate gigs as it allows us to tell the story behind our songs. We have recently been joined by our new bassist, Jake. We've been a bit quiet over the past few months as we've been spending time writing new material and preparing for gigs over the summer!! With the addition of Jake to the band, we have decided to take the music in a slightly more upbeat direction and new themes and styles are beginning to emerge.

Our musical influences are all quite different, with Martha's being pop and indie music and Josh's being metal and rock. Martha's lyrics are generally written about her day to day life but with the addition of Jake to the band we are starting the draw influences from a wider range of genres and taking time to get to know each other's styles of writing.

​We're looking forward to see what the future holds. Keep an eye for us on social media for upcoming gigs and updates and we hope to see you very soon.






Powered by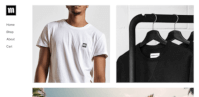 Create your own unique website with customizable templates.